Prep 15 mins
Cook 1 hr 30 mins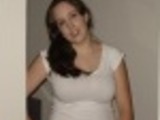 Directions
You need to use a 13 x 9 pan (spray with pam).
Break bread into small pieces into the pan (like if you were making stuffing).
Break the cooked meat into pieces and layer over the bread (ham, bacon or sausage).
Sprinkle 2 cups Velveeta cheese over the meat.
Mix together the eggs, milk, salt and pepper.
Pour over top and mix all together.
Bake in oven at 350ºF for 1 hour. Refrigerate when cooled.
In morning heat at 350º for 1/2 hour and then serve.
Most Helpful
Great base recipe for this! I first had this with a friend and I got hooked! It's a simple and easy breakfast recipe. Making it from this recipe, it wasn't as great as my first experience but it was still delish. Like Shelby said, though, the more meat the better filled in it is!

This was pretty good. I used bacon only. I wish I would have used sausage too. It needed a little something, and I think the sausage woulda fixed that. It looked perfect after the first baking. When I reheated it the second time it came out a little dark and overcooked. If I make this again, I will only bake it for the first hour and no more. With the shorter baking time and more meat this might have been a 4 star recipe.