Bread Machine Cinnamon Buns With Walnuts & Raisins
awalde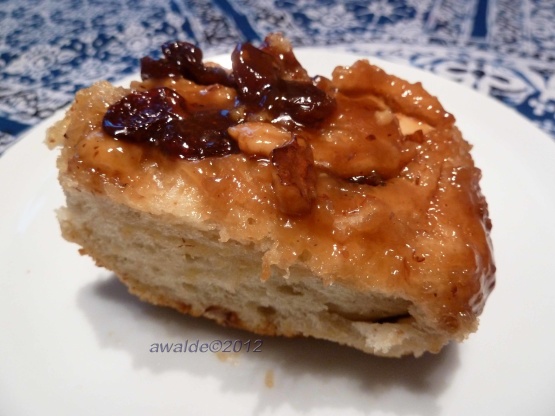 This is a take on Bread Machine Cinnamon-Pecan Buns: Bread Machine Cinnamon-Pecan Buns, which I changed a little. The dough is so wonderful and rises incredibly, and the sauce - oh, the sauce! They're just packed with walnuts and raisins, too - a real treat! I've also added an optional drizzle, for those that must have icing on their cinnamon buns!

Made these strictly for my hubby so no nuts, otherwise they were made right by the recipe. He said to see if I could manage to get 10 stars listed, lol. That said, I found no problem at all with the dough. It was soft out of the bread machine and it allowed me to hand press and stretch it to size (can't find my rolling pin!) with more ease than I would have expected. The rolls baked up beautifully and the finished product was very tender and yummy. Of course, the sides next to the pan are crusty but you can't avoid that.......well, maybe you could if a microwa........nope, I don't think even that would yield soft edges. Katzen, this recipe makes truly scrumptious cinnamon raisin buns. I'll be keeping it safe because I know that DH will be asking about them again. He's downed 2 thus far but the evening is far from over, lol.
Measure first 8 ingredients into bread machine (refer to your bread machine instructions for the proper order). Select the dough cycle.
Meanwhile, prepare syrup: Boil together butter, water and brown sugar for 1 minute.
Immediately, pour syrup into a 9 X 13 pan; tilt pan to cover bottom evenly.
Arrange walnuts, flat side up on syrup; scatter raisins on top.
When bread machine cycle is complete, remove dough from machine to a lightly floured surface. If necessary, knead in enough flour to make dough easy to handle.
Roll dough into a 12 X 18 inch rectangle. Brush with melted butter.
Sprinkle evenly with the mixture of brown sugar and ground cinnamon. Sprinkle chopped walnuts and golden raisins on top. Starting at large side, roll up jelly-roll fashion. Pinch edge to seal. Cut roll into 12 equal pieces. To avoid too much filling from escaping, I first cut the roll in half, then each half in half, and then each quarter in thirds. Place rolls flat over syrup.
Cover and let rise 30 minutes or until double in volume.
Remove cover and bake at 375 for 30-35 minutes, until golden brown.
Loosen edges and carefully invert onto serving tray.
To make icing: Mix icing sugar and cinnamon together; add maple syrup and 1 tbsp milk, mix. If needed, add more milk. Icing should be stiff – but not too stiff – and not too runny either. I like to leave the icing on the side to allow folks to decide to use it or not.
Enjoy!