Braised Chicken With Red Potatoes and Tarragon Broth
vrvrvr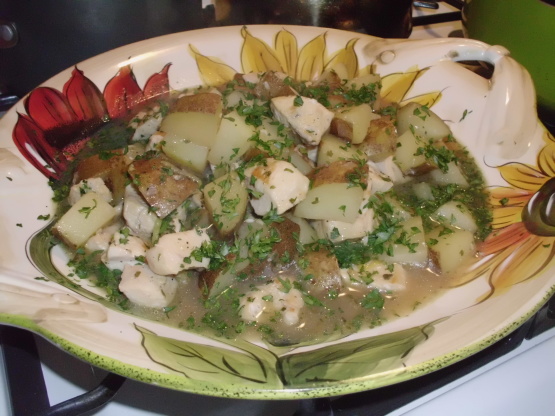 Top Review by vrvrvr
This was very delicious! But it needed some help: more olive oil, more salt and longer simmering time. I went ahead and added my potatoes at step 2 (I had to sub russets for the reds, and I only had dried tarragon - used 1 tsp. and the flavor came through beautifully). Simmering for about 25 minutes produced tender potatoes. I thought the sauce needed a little something more, so I zested a lemon into it. We found that mashing the potatoes on the plate (with a fork) and then spooning the sauce/drippings over each serving enhanced the eating experience! Pretty and flavorful, with the minor adjustments mentioned. Served with steamed broccoli and cauliflower, and super crunchy multigrain bread. Very, very good!
Heat oil in a large saucepan over medium-high heat. Add shallots to pan; sauté 1 minute.
Add chicken to pan; sauté 2 minutes or until browned. Add broth, wine, tarragon, salt, and pepper; bring to a boil. Simmer 5 minutes, stirring occasionally.
Add potatoes; simmer 5 minutes or until potatoes are tender. Remove from heat; stir in parsley.