Bow Ties With Sausage, Tomato, and Cream
Ms B.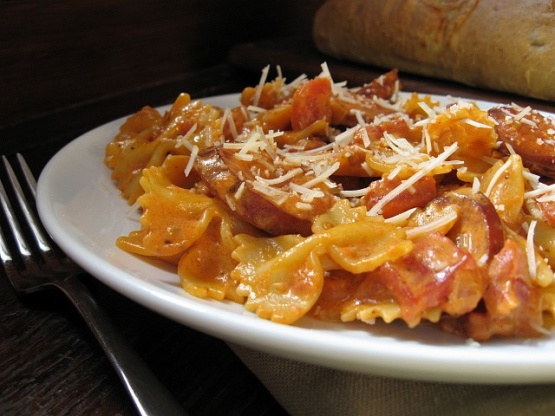 A very easy pasta dish for busy evenings. I like it served with crusty bread (to dip in the sauce) and a tossed salad. I have even doubled the recipe and served it to guest on a casual evening.

My husband declared this the best recipe on food.com. Delicious!!! I used andouille sausage.
Bring a large pot of lightly salted water to a boil.
Cook pasta in boiling water for 8 to 10 minutes, or until al dente; drain.
Heat oil in a large, deep skillet over medium heat.
Cook sausage and pepper flakes until sausage is heated and browning around the edges.
Stir in onion and garlic, and cook until onion is tender.
Stir in tomatoes, cream, and salt.
Simmer until mixture thickens, 8 to 10 minutes.
Stir cooked pasta into sauce, and heat through.
Sprinkle with parsley.