Bow Tie Pasta With Chicken and Vegetables
CoffeeB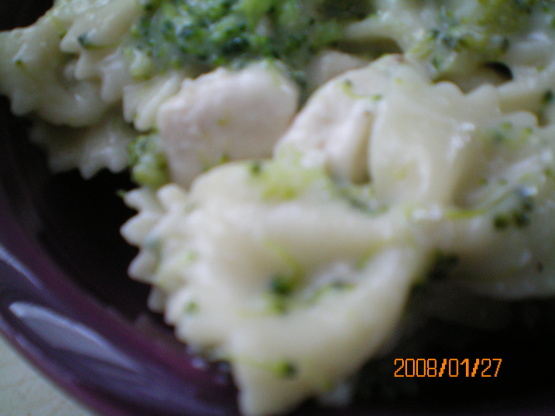 This is a low fat version that tastes just as good as the original.

This is an awesome recipe!! It's super simple to make and tastes great. I did a few things differently: I minused the salt (due to diet restrictions) and added 1/4 tsp. red pepper also my sauce wasn't thickening so I added 1 T. cornstarch and it thickened right up. Thanks for posting...I can't wait to make this again!!
In a 2 quart saucepan stir together flour, salt, pepper, milk and chicken broth. Cook on medium heat, stirring often, until mixture is thick and bubbly. Add 1/4 cup parmesan cheese; cook and stir 2 minutes more.
Cook pasta according to package directions. After approximately 6 minutes, add vegetables and allow to cook for 3 minutes longer. Drain.
While sauce and pasta are cooking, cook garlic and seasoned chicken in skillet on medium heat for 5-6 minutes.
Combine chicken and sauce with pasta and veggies. Garnish with remaining parmesan cheese.