vrvrvr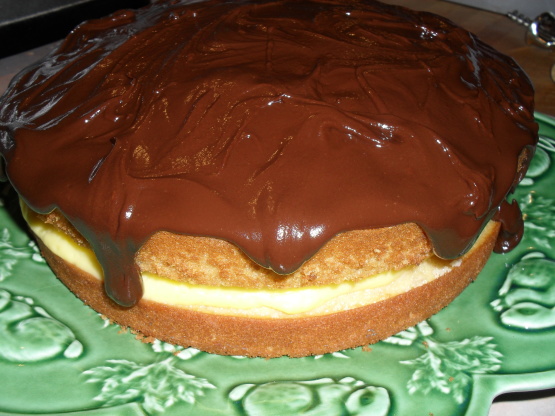 You can make the cakes and custard a day before, but make glaze and assemble on the day you plan to serve.

Top Review by vrvrvr
This was a beautiful addition to our Easter table, and it received great reviews from everyone who had a piece. I wish the cake had been a little spongier, to absorb more of the filling. The cake was a bit dense and dry. I made the cakes and filling a day before. I increased the chocolate in the glaze and added a bit more corn syrup to compensate, because I wanted a thick amount of topping. I didn't know whether to buy Instant vanilla pudding or cook-n-serve; I bought instant and then it seemed like that was wrong, so I just made the pudding according to package directions. Overall this dessert was a success, but I feel like it could use just a bit of tweaking. Thanks for posting!
Heat oven to 350 degrees.
You'll need two 9x2 inch round cake pans coated with nonstick spray.
Line bottoms with wax paper, spray paper.
Cake: Beat butter, sugar, vanilla, baking powder and salt in a large bowl with mixer on medium speed 3 minutes or until fluffy.
Add eggs, 1 at a time, beating well after each.
On low speed, beat in flour in 3 additions alternating with milk in 2 additions, just until blended.
Divide between prepared pans.
Bake 25 minutes or until a pick inserted in centers comes out clean.
Cool in pans on rack 10 minutes, invert, remove paper and cool completely.
Meanwhile, make filling: In medium saucepan, whisk egg yolk and milk into pudding mix.
Cook over medium heat, stirring, until mixture comes to a boil.
Pour into a bowl; place plastic wrap directly onto custard surface.
Chill 30 minutes or until thickened.
Assemble: Stir or whisk custard until smooth.
Place one cake layer on serving plate; spread custard over top.
Top with remaining cake layer, rounded side up.
Refrigerate.
Meanwhile, make glaze: Stir glaze ingredients in small saucepan over low heat just until chocolate melts and mixture is smooth.
Spread glaze over top of cake, allowing some to drip down sides.
Let stand 15 minutes at room temperature until glaze is just set or refrigerate until serving, then let stand at room temperature about 20 minutes before serving.