Rita1652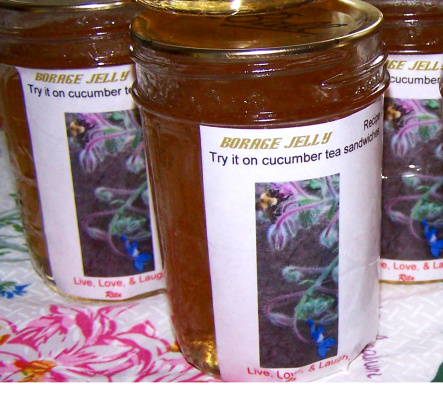 For growers of borage add flowers to herbal vinegar as a dye and for a slight cucumber flavour.This is wonderful on cucumber tea sandwiches.
1419.54

ml borage leaves (and flowers)

14.79

ml mint leaf (optional)

29.58

ml lemons

49.61

g package dry pectin

1182.95

ml sugar
Soak 6 cups of borage leaves and mint leave if using and flowers parts in a 4 cups of cold water overnight, drain and strain, pressing the liquid out of the leaves and flowers gently.
Measure 4 cups of the liquid, add the lemon juice, and pectin.
Put into a deep jelly kettle and bring to a rolling boil, then add sugar and stir to mix well.
Stir and boil hard for 1 1/2 minutes, or until mixture sheets from a wooden spoon, skim, pour into hot clean 1/2 pint jelly jars. Seal the a water bath accordingly.