Recipe by Nif
A few simple spices turn chicken from ordinary to exotic. This recipe is from a 2001 issue of Chatelaine, a Canadian magazine. Enjoy!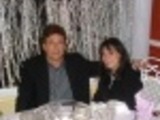 I made this exactly as posted, except I used thin-sliced chicken breasts, which don't take long to cook on the grill at all. I actually ended up marinating the chicken overnight, using a hot curry powder. The chicken was moist and full of flavor. This is so easy to put together. I will be making this again!
Grease grill and preheat barbecue to medium.
In a small bowl, stir oil with curry and garlic powders, ginger, salt and pepper. Using a brush or your fingers, spread spice mixture on both sides of chicken.
Barbecue chicken with lid down until chicken feels springy when pressed, from 6 to 8 minutes per side. Serve with rice and raita (see recipe ##482134).