Boiled Raisin Cake (Canadian War Cake)
Annacia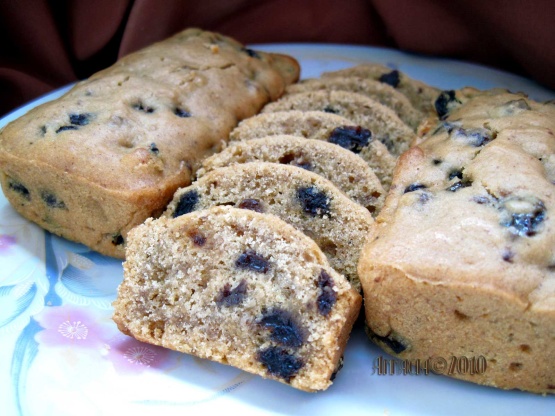 This is called War Cake because it was made in Canada during WW2 and was shipped out to the troops serving overseas. My grandmother used to make this cake and let it sit for at least a week before slicing into it. But, this recipe I found in a local fundraising cookbook, calls for it sitting for only one day before slicing it up. Just as yummy as grandmas.

I made this yesterday for DH who dearly loves raisins. Since he would never use up a full cake I cut the recipe in half and then made 3 mini loaves. Well, after an impatient 24 hrs I let him at them while saying that I needed a rating. With big eyes of delight and a full mouth he managed to say 5 with a smile. My 3 little loaves were done in 30 mins. This has an interesting texture, it's moist and dense yet will shed soft crumbs when sliced. Gotta ove the 18% fat content too! Made for Photo Tag.
Mix raisins, butter, brown sugar, spices, and water in heavy saucepan.
Place on high heat and bring to a boil.
Lower heat and simmer for 6 minutes.
Remove from heat and turn raisin mixture into a large bowl.
Let stand at room temperature for 30 minutes.
Meanwhile, combine flour, salt, and baking soda and mix gently.
Add orange juice, vanilla and dry ingredients to cooled raisin mixture and beat well.
Turn batter into a well greased 10 ¼" x 3 5/8" x 2 5/8" loaf pan.
Bake at 350 degrees Fahrenheit for 1 hour.
Allow cake to cool in pan for 10 minutes.
Remove from loaf pan and allow to cool completely on wire rack.
Let cake ripen for at least one day before slicing.