WW2 War Cake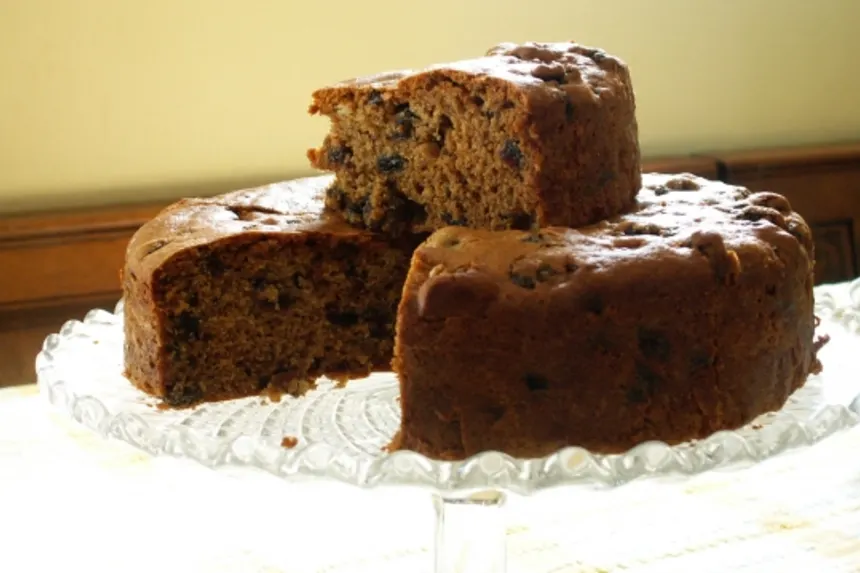 photo by erohr

Ready In:

1hr

Ingredients:

11
directions
Place the brown sugar, water, raisins.
oil, cinnamon, and cloves in a heavy-bottomed saucepan and bring to a boil.
Cook gently for 5 minutes, then remove from the heat and let cool until the mixture is comfortably warm to your finger.
While the mixture is cooling, preheat t he oven to 350F.
Grease and flour an 8x4-inch baking pan.
Sift together the flour, salt, baking powder, and baking soda.
Add them to the cooled sugar mixture, beating until no drifts of flour are visible and the batter is smooth.
Stir in the walnuts.
Spread evenly in the baking pan and bake for 25-30 minutes, or until a broomstraw inserted in the center of the cake comes out clean.
Let cool in the pan for 10 minutes, then turn onto a rack to cool completely.
Notes: For a good glaze, even if it is a 90's addition, save back a bit of the hot spiced water.
Mix with confectioner's sugar, a drop of vanilla, and a pinch salt. Glaze the cake while hot.
Reviews
This recipe is almost exactly what my Grandmother called "Boiled Cake". She said it was originally "made up" because the ingredients for a regular cake were not always available. This is one of my favorite cakes--great to take to a pot luck, or office party. It tastes wonderful, packs well and everyone loves it. The only difference is she used lard, my mother substituted Crisco when they boiled the sugar (they used white sugar), water, raisins, etc. together. And of course, they did not always have nuts on hand so they were omitted a lot. Wonderful cake! Just a side effect -- when the mixture is boiling the entire house gets that spicy cooking smell that brings the whole family into the kitchen saying "what smells so wonderful).

 

This is very tasty -- deceptively rich, in fact. But I have to dock a star because it took a full 45 minutes to cook and half-again the amount of time is a little much to allot for oven temperature variations. The kids gobbled it up so fast that I think I'll make another loaf tomorrow. But I'll try wartime variation I've heard of -- replacing some of the sugar with grated carrot.

 

This was easy and good. I only used 2/3 cup of brown sugar and raisins each and that seemed like plenty to me. I used 1/4 tsp of allspice instead of cloves and would probably add another 1/2 tsp cinnamon next time. I also added 1/4c rum. I baked them in large muffin tins for 20 minutes and it made 8.

 

This cake was always a staple in my grandmothers pantry as well as any other pantry around. Moist and delicious, at times it had a light drizzle frosting but mostly it was plain. I still make it using my Nan's recipe and during the Christmas Season I add glaced Mixed fruit, Red and Green Cherries etc and of course I add a little Cheer-up ( Rum or Brandy), Makes a beautiful Fruit cake. I also make one for my friend using Craisins as she hates raisins... This is one of those cakes that stands the test of time and is always a favourite...I have made it in loaf pans as well as tube and bundt . Thank you for sharing your recipe...