Bob Pope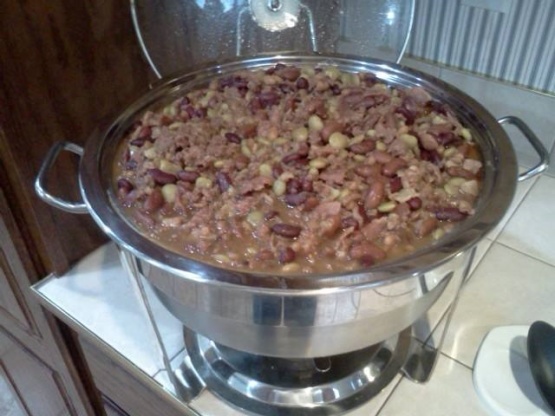 This is the most requested Pot Luck dish I make. I have to make it every year for The Fostoria Community Band's Pot Luck. I have shared this recipe numerous times and everyone loves it. It is a meal by itself too!
Dice the onion and the bacon, and cook with the hamburger until browned.
Drain all the beans except the pork and beans and add the rest of the ingredients.
This is a versatile recipe. It can be cooked on the stove top, in the oven (Dutch oven), a crock-pot, or can use cast iron skillet on the grill top.
Can also add a hint of chopped bell pepper-and or a hint of BBQ sauce. If you have left over ham.
with a little pineapple on it-throw pineapple in with it.
You can reduce the meat to ½ pound quantities if desired.