gailanng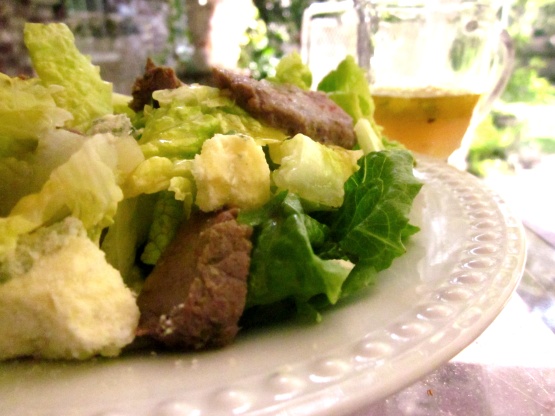 This is a great dressing to have on hand to put on anything from a simple green salad to sliced tomatoes. I like to mix up a batch on Fridays to have on hand for the weekend. I found this recipe on the Epicurious website.

Hey Jude, this is terrific blue cheese vinaigrette! When I read it I thought that it probably shouldn't be called a vinaigrette with a T of sugar in it, but it's still plenty tangy. It just doesn't take your breath away as some, loaded with vinegar, do. It's perfect. And it's just become the official house dressing.
Heat 1 T oil in a small, heavy skillet over medium heat; add garlic and saute until golden, about 1 minute.
Transfer garlic mixture to a blender or food processor; add blue cheese, white wine vinegar, water, sugar, hot pepper sauce, salt, pepper and remaining 6 T of olive oil.
Blend well.
Transfer vinaigrette to a bowl; mix in chopped basil.
Can be prepared 2 days ahead, cover and refrigerate.