This Blue Cheese Dressing is great with hot wings. This make a nice thick version for dipping. Check out my Hot Wings recipe for Anchor Bar style wings. MMMMM
Directions
Combine all ingredients. Mix well. Serve with hot wings. Thin with a
little milk to desired consistency for salad.
Reviews
Most Helpful
5 STARS! All the way. I like garlic and blue cheese so I used a half cup of blue cheese, and 6 cloves of fresh garlic. Hellmann's has a 9 oz. jar of mayonnaise and used all that I could dig out. This is (like you said) EXCELLENT on Buffalo Wings! And thanks for post!!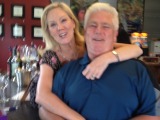 I used as a dressing for salad and a dip for cumcumbers. Delicious! I used a good Danish cheese, which was so yummy. Thanks so much!

I had a couple of wings left from the other day, (which are fantastic on their own) but thought I would make up a batch of the dressing to go right along with them. Oh I wish I had this the other day, because this is a wonderful sauce to dip ....well anything, (except the cat) and could be used for dressing, dip, or combination. The only small change I made was used instead of onions, sliced up a green onion (top and bottom) and tossed it right in. Am anxious to make again, especially cause' I needed more after reducing it. :) Made for *Everyday is a Holiday* July 2009