Black Bean and Corn Salad

Bright and colorful. Delicious. This goes well with just about any Mexican meal, and is a great take-along for pot lucks too. Cook time is refrigeration time.
Directions
Mix together black beans, corn, bell peppers, onion and jalepeno.
Mix dressing ingredients together and toss with salad.
Refrigerate 2-3 hours to allow flavors to mingle.
Most Helpful
Great Flavor, Linorama! It just gets better as it sits. I grilled & sliced some chicken and served it as a main dish. I also found you can cut the oil in half and still have a great salad.
It's not quite my favorite black bean and corn salad, but it's quite good! I only let it marinate 1 hour and used a sweet frozen corn which I defrosted. It has a great texture to it, but next time I might add a tomato. I had to reduce the red onion I used due to my BF's taste, and I cut it up very small. I also reduced the oil by quite a bit and added some black olives that I had in the refrigerator. I ate the leftovers for breakfast the next day, a sure sign of a winner.:D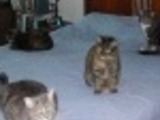 I liked this. Definitely better the next day. I added some fresh cilantro and a can of tuna (but I had halved the recipie). Satisfying and crisp. Great for a cold lunch.