Black Bean and Corn Quesadillas
Deb G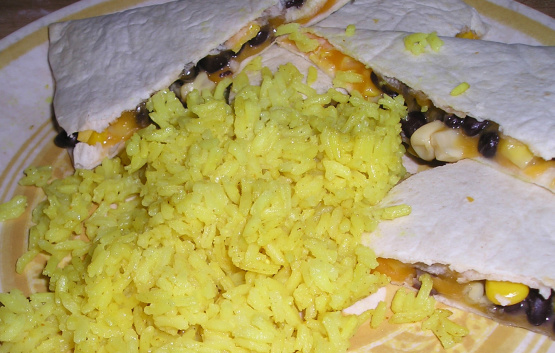 This is a terrific fast and easy lunch with ingredients you have on hand. Feel free to substitute. I prefer to cook this with the rice inside the quesadilla.

Top Review by Deb G
Quick, easy, and very tasty! We enjoyed this as a light supper. I liked it as is, but one son used some salsa with his. I had trouble with the flipping of the quesadillas, so I resorted to putting them in the oven for a few minutes to melt the cheese inside. The corn was left out of the ingredients list. I used a 14.5 oz. can of whole kernel sweet corn. We will have again and again I am sure. Thanks for posting. Made for Cool Beans! photo event.
Place 4 tortillas on a griddle on medium heat and top with cheese, black beans, and corn.
Place remaining tortillas on top.
Press down firmly with a spatula and flip to brown on the other side (1 to 2 minutes).
When heated through, remove quesadillas to a cutting board and let cool slightly.
Cut each tortilla into 4 wedges.
Place warm yellow rice in the center of the plate, arranging quesadilla wedges around the outside of the plate.
Serve with guacamole, salsa, and sour cream and garnish with chopped scallions.