Prep 10 mins
Cook 30 mins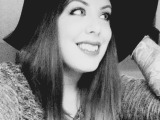 From Betty Crocker Best Cupcakes & More
Make and share this Black and White Cupcakes recipe from Food.com.
chocolate cake mix, with creamy vanilla filling (for cupcakes- Betty Crocker Chocolate cupcakes FUN da-middles)
water, vegetable oil and eggs called for on cupcake mix box
6 cream-filled chocolate sandwich cookies, crushed (3/4 cup)
2 cups powdered sugar
1 dash salt
1⁄3 cup whipping cream
1⁄2 teaspoon vanilla
2 tablespoons semi-sweet chocolate chips
1⁄4 cup pearl sugar
2 tablespoons betty crocker decorating decors and chocolate sprinkles
Directions
Heat oven to 350 degrees (325 degrees for dark or nonstick pan).
Place paper baking cup in each of 12 muffin cups.
Make cupcake mix as directed on box, using water, oil and eggs.
Fill each muffin cup about one-third full with batter.
Squeeze filling pouch 20 times; cut off corner of pouch at cut line.
In medium bowl, squeeze filling. Stir in crushed cookies.
Divide filling among muffin cups, making sure filling does not touch sides.
Spoon remaining batter evenly over filling, making sure filling is completely covered.
Bake 24 to 29 minutes. Cool 20 minutes.
Remove cupcakes from pan to cooling rack. Cool.
Mix powdered sugar and salt. Gradually add whipping cream and vanilla, stirring until smooth.
Transfer half of frosting to small microwavable bowl; stir in chocolate chips.
Microwave on High 30 to 60 seconds or until chips can be stirred smooth.
Cool 5 minutes.
Frost half of each cupcake with chocolate frosting. Frost other half with white frosting.
Garnish edge of cupcakes with sugar and sprinkles.