Lois M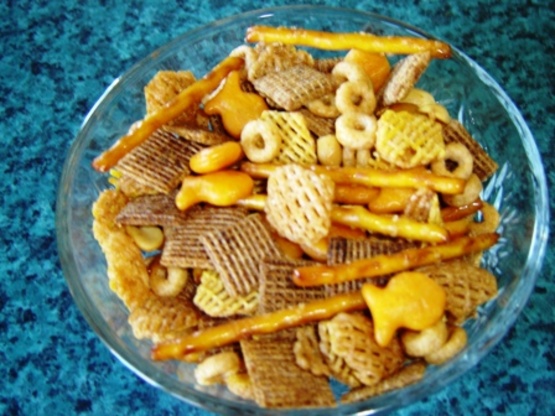 An awesome snack! My mom used to make this every Christmas, and give some away in Christmas tins, or fancy jars. Makes a great hostess gift, or teacher gift- but now I just make it for myself and my family, usually two batches each Christmas!

This was easy enough to make, tasted ok, next time would maybe add more flavouring, but still will go over HUGE in my house.
Mix all dry ingredients together in a large roasting pan.
Toss to mix.
Mix oil, garlic powder, seasoned salt and worcestershire sauce together in a large measuring cup.
Whisk together, it will want to separate, so keep whisking while you pour over dry ingredients.
Mix thoroughly.
Bake at 250 uncovered, for 1 1/2 hours Mixing every 20 minute.
Allow to cool, enjoy!