Bite Ya Back Bacon Cheese Burgers
2Bleu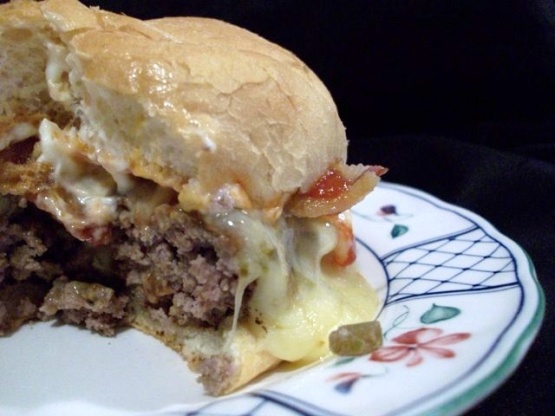 Inspired by my friend Johnny Jalapeno, these burgers have a kick!! These are BIG 1/2 LB burgers so don't be afraid to change things up and make substitutions to your liking. Just ENJOY them!!! Times do not include time of 30 minutes to get meat room temp.

Grilled these outside on a charcoal grill, and they turned out delicious. I put the bacon under the cheese, to keep it from sliding off the burger! I used Southern Flavor Chargrill Seasoning instead of blackening and mixed it into the meat. Then I gave an extra toss of black pepper on the outside of the burgers before cooking. I really wanted a sliced avocado on these, but I didn't have one, but next time.....! I made these for TYM tag.
In a bowl, mix first five ingredients together. DO NOT over mix.
Form into two patties and then sprinkle with Blackening Seasoning.
Light the grill. Allow at least 30 minutes for the burgers to get to room temperature.
Cook burgers to your liking. Do not push on burgers while cooking or over-flip. Top with cheese 1 minute prior to removing from grill and lightly toast buns.
Top with bacon and any other condiments you'd like and ENJOY!