Bistro Vegetable Linguini
Sageca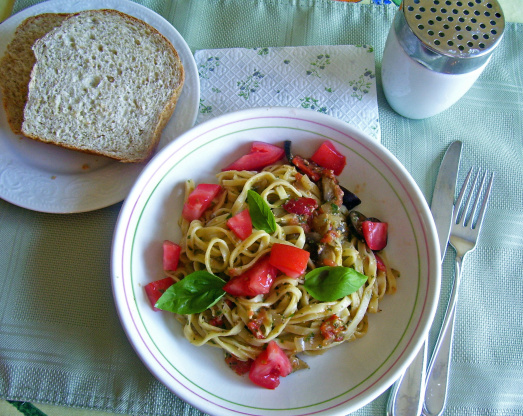 This recipe is versatile; you can add or change any of the vegetables. Keep it fresh and light.Have grated Parmesan cheese and the pepper mill on the table. Serve with a crusty bread and enjoy a taste of summer.

Simple and tasty. The topping has a nice fresh texture, since the pepper, tomatoes, and olives are just stirred in and warmed, not simmered into sauce. I roasted a green pepper, which helped give a nice color combination.
In skillet heat olive oil over medium heat. Cook onion, garlic and shallots, stirring for 3 minutes or until softened.
Add mushrooms, salt and pepper and cook another 5 minutes stirring to prevent sticking.
Add roasted red pepper, olives, parsley, pesto and tomatoes.
Stir together and remove from heat.
Meanwhile cook linguini in boiling water for 8 to 10 minutes until pasta is al dente.
Drain and toss with vegetable mixture.
Sprinkle with Parmesan cheese to taste; garnish with basil leaves.