Karen..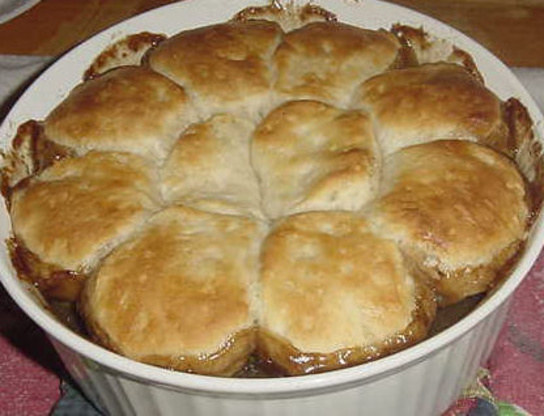 This recipe is so versatile. You can pretty much throw in whatever you have in left-overs. I have used leftover roast beef or London broil, plus have changed the veggies around, etc. It is great comfort food that helps you clean out the fridge!

Boy o Boy Karen, this is a winner! My DH and I just loved it....I used leftovers from a very rare sirloin tip roast, the gravy was a jar of Boston Market beef gravy combined with some leftover homemade gravy. I used fresh thyme from my garden and the vegetables and biscuits were the ones you recommended in your recipe. The results were fantastic. I definitely will be making this again, my imagination is going wild on what to add next time. Thanks so much for a recipe I'll be making again and again!
1 1⁄2 lbs top round steaks, cooked and cut into 1 inch cubes (London broil, or use any kind of leftover beef you have on hand)

1

(9 ounce) bag frozen baby carrots

1

(9 ounce) bagfrozen peas and pearl onions

1

large baking potato, cooked and cut into 1/2 inch pieces

1

(18 ounce) jar beef gravy (or use home-made or mixes)
1⁄2 teaspoon thyme
1⁄2 teaspoon black pepper

1

(10 ounce) can refrigerated buttermilk biscuits
Preheat oven to 375°F and spray or grease a 2 quart casserole dish.
Combine beef, frozen vegetables and potato in prepared dish.
Stir in gravy, thyme and pepper.
Bake uncovered for 40 minutes and remove from oven.
Increase temperature to 400°F and top the casserole with biscuits.
Bake for 8-10 minutes more or until golden brown.