Annacia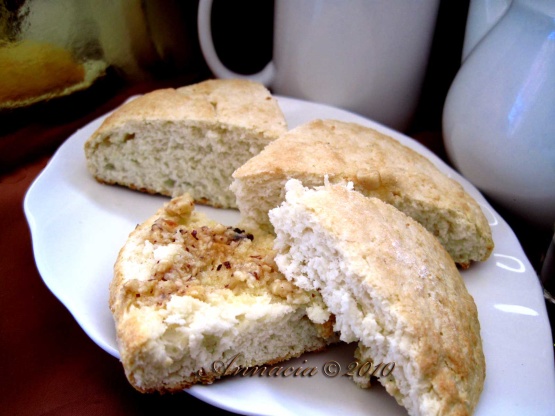 The lightest scones I ever had, but be careful it requires a light hand. Don't overmix and knead the dough too much or they will turn out very tough. Undermix in better.Use only a small amount of flour on the kneding board and knead lightly until very smooth.Add a little sugar to take away any floury taste. Before baking, brush top with milk for golden shiny tops.

These really are wonderful scones. I added a couple teaspoons of Splenda because I like a little sweetness in scones that I'll be using for brekkie. I also found the dough to wet to knead at first so I waited for about a min and rechecked. It was much better after allowing that little time for the flour to absorb the liquid, however, I still needed a little more flour on the board that the recipe describes. All in all they turned out beautifully (even though I forgot to make the cuts) with the same great crisp thin exterior and a moist incredibly tender and delicious interior. They made a marvelous breakfast with tea and Recipe #315981. Thanks Little for a real keeper.
Preheat oven to 220°C Sift flour and salt . Add butter and rub using your fingertips.
Combine milk and water. Make a well in the center of the flour. Pour liquid all at once. Mix quickly to a soft dough.
Knead lightly. Press or roll out to form a round about 2 cm thick.
Cut using a round cutter and place on a greased oven tray and glaze with milk.
Bake for 10-12 min or until scones sound hollow when tapped.