Best Ever Chocolate Chunk Cookies
NELady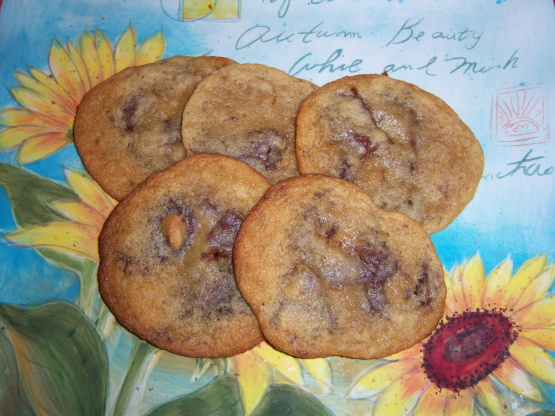 I got this recipe from one of the first issues of Chocolatier magazine several years ago. I have tried other versions of chocolate chip cookies since, but none have been as good as these.

Best cookies ever!!! I used a swiss chocolate bar and chopped it up, which was amazing! I am making them for the 2nd time tonight.
In a large mixing bowl, combine the butter, brown sugar, sugar, vanilla and salt and beat with a spoon until fluffy.
Beat in the egg and baking soda.
Stir in the flour, walnuts and chocolate.
Transfer to a bowl, cover and refrigerate until firm, about 4 hours or overnight.
Preheat the oven to 350°.
Using 2 to 3 tablespoons of dough for each cookie, shape the dough into balls and place on the lightly greased cookie sheet.
Bake for 10-12 minutes or until the cookies spring back when very lightly touched.
Cool on the sheets for 2 minutes, transfer to paper towels to cool for about 2 minutes, and transfer to racks to cool.