chia2160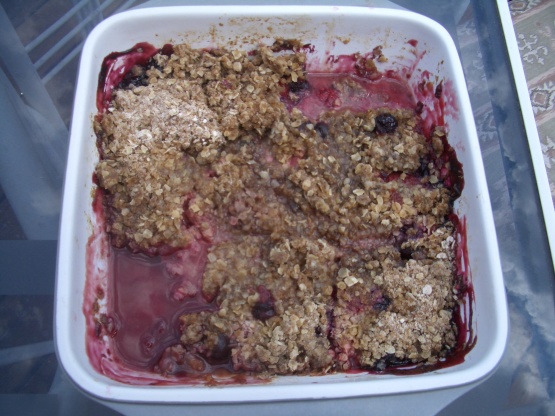 This is a recipe that was sent to me in a small summer mag from my local grocery store. Its a yummy recipe!!!!

Top Review by PanNan
This is a wonderful summertime treat. Loved the hint of citrus, and the crunchy topping with oatmeal. Absolutely delicious as a generous topping over a scoop (or two) of vanilla ice cream. One note of caution - be sure to put it in a container that is deep enough. I used a shallow baking pan, and it boiled over a bit. Thanks love4culinary!
Preheat oven 375 degrees F.
Lightly Spray 8x8 inch pan, mix berries with sugar and cornstarch; toss well to coat.
Stir in orange juice and mix.
In small bowl combine oats, flour, brown sugar, all spice and butter until crumbly; spoon over top of fruit.
Bake in oven 35-40 minutes til bubbly and browned on top.
Serve topped with low-fat frozen yogurt or ice cream.