Bella's Crock Pot Italian Beef
jenne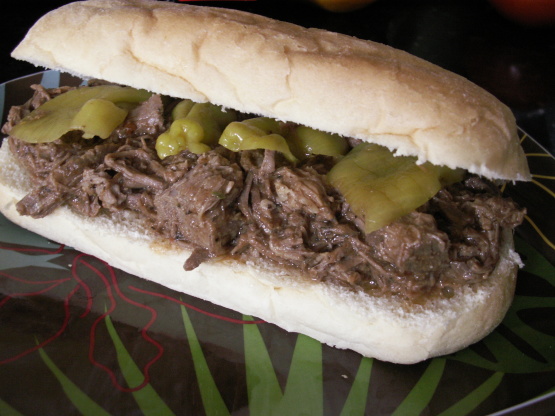 Bella's was a restaurant in our town, and we loved to eat their Italian Beef subs. They had to close due to Bella's health, but after a lot of begging, she gave us the recipe. This smells so good while it is cooking. It can be served over pasta (first thicken sauce with a bit of cornstarch), open-face over toast, on a sub bun, or on a big pile of garlic mashed potatoes...

Top Review by AlexaP
I made this for my fiance and I to have as a quick dinner the other day. We ate them on sub buns and fiance topped them with provolone. He said it was "AWESOME"! Because he has only had one negative thing to say about anything I have cooked for him in the past 5 years we have been together, he hardly ever tells me when he really likes something... but this he was very vocal about and even told me it was a "keeper"! When I started to put the leftovers away, he picked at them until he had eaten half of what was left! Thanks for a great recipe!
Place beef roast in crock pot.
Combine other ingredients in a saucepan, and cook over medium-high heat until it comes to a full boil. Pour over roast.
Cover and cook on high 6-8 hours.
Shred beef with a fork, and cook 30 more minutes.