Beef Tips & Crispy Parsnip Threads With Horseradish Cream Sa
Satyne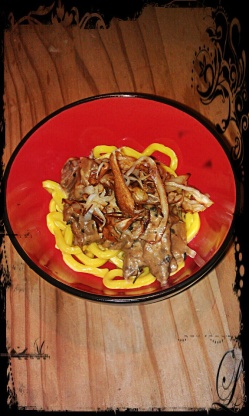 My family loves beef tips and gravy over egg noodles. Here is a new twist to the traditional beef gravy version. The horseradish has a subtle flavor, so this dish can be served to kids and company alike. Serve with a nice salad and you are good to go.

I cut this down to one serving and used a sirloin steak that I sliced in thin strips. The sauce was wonderful. I used a mixture of baby bellas and buttons and they were great in this. I made and cooked the parsnips but forgot all about them when it came time to eat. They were still on the counter when I took my plate back to the kitchen. They had lost their crispness by then but I still tried a little taste and sure wish I'd remembered them. Thanks for sharing. Good luck in the contest.
In medium mixing bowl, whisk together the plain yogurt, horseradish cream, half & half, beef broth and rosemary and set aside.
Pour 2 Tablespoons olive oil to a large frying pan and heat over medium heat. Add chopped onion and saute until translucent. Add beef tips to pan, sprinkle with salt and pepper, and cook until meat is no longer pink.
Sprinkle beef with flour and stir to coat. Add mushrooms to the pan and to cook over medium heat, stirring occasionally.
Meanwhile, scrub and peel the outer layer from the parsnips and discard. Using your potato peeler, quickly peel strips of parsnips until you reach the woody center.
Pour remaining 2 Tablespoons olive oil in a skillet and heat over medium heat. Add parsnip threads in small batches and fry until golden brown and crispy. Transfer to a paper lined plate to drain.
While parsnips and beef tips are cooking, cook the egg noodles according to package directions.
When the noodles are down to their last five minuets of cooking, pour the horseradish cream sauce over the beef and mushrooms and stir well to coat. Simmer until sauce has slightly thickened.
Drain noodles and place in a serving bowl. Pour beef tips and horseradish cream sauce over the noodles and top with the crispy parsnip threads.