Parsley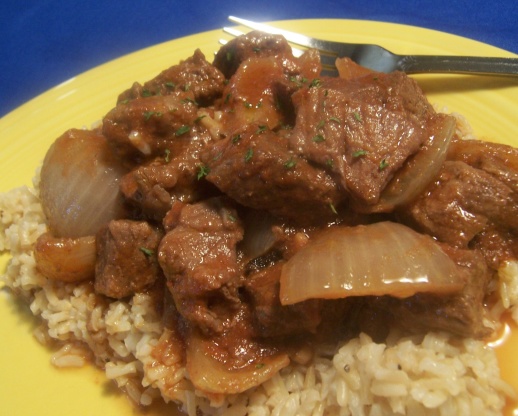 I used to make this on the stove over very low heat, but since I got a crockpot, I use that. This is good served over white or brown rice.

Sweet-toothed DH absolutely loved this. I added some dried cranberries, too, and used balsamico because that's what I had. Will make this again! Thanks for posting.
Season the beef with salt and pepper.
Place butter in the bottom of a large crockpot.
Add the meat and turn to coat with butter.
Arrange the onions over the meat.
Mix the tomato paste through the garlic, and pour over the meat and onions, but do not stir.
Add the bay leaf through the raisins; do not stir.
Simmer on low 8-10 hours.
At serving time, remove the bay leaf, cinnamon stick and cloves and stir the stifado gently to blend.