VickyJ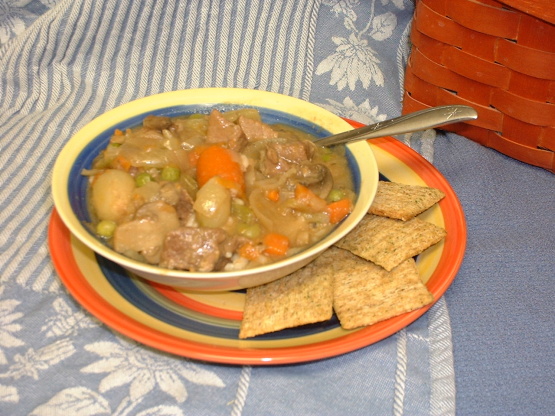 This is the perfect stew to make on a cold winter's day! Your house will smell amazing when this simmers on your stove!

Top Review by VickyJ
This is fantastic. It was easy to make and filled the place with delish aromas! The only thing I did different is add some frozen peas and chopped onion, along with the pearl onions. I served it over rice. It was great! Thank you for the recipe, yooper!
In a large bowl, combine thyme, salt and black pepper.
Add beef and toss to coat.
In a large pot, heat oil over medium heat.
Add half of the beef and cook 10 minutes, or until browned, stirring occasionally.
Transfer beef to bowl.
Repeat with remaining beef, then return the already browned beef to the pot.
Stir in broth, wine, and garlic.
Reduce heat to low, cover tightly and simmer 1 hour, stirring occasionally.
Add carrots, potatoes, mushrooms and onions.
Cover and cook 1 hour, stirring occasionally.
In a small bowl, combine water and flour; gradually stir into the stew.
Cook, uncovered, 10 minutes, or until stew is slightly thickened, stirring occasionally.