Beef and Mushrooms in Gravy
Annacia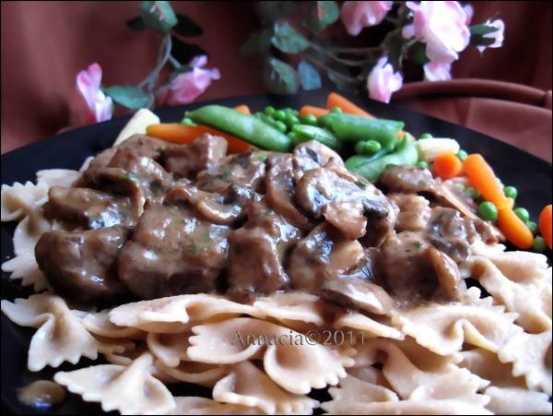 I was experimenting with some beef cubes that I bought and couldn't make up my mind what to do with - this is what I came up with and both DH and I loved it! I made it with the pasta as stated in the recipe, but you could also serve with potatoes or rice. Hope you enjoy!

I didn't have the meat tenderizer and the blade steak that I used for this could have used it. The flavor however is wonderful. It has a good richness and depth. DH thought the gravy was outstanding. I would certainly make this again but next be sure to use an already tender cut of meat. I added some chopped chives to the meat mix just before starting the gravy phase and we enjoyed that,
Boil water for pasta.
In large fry pan, heat olive oil to 350 degrees - use enough oil to coat bottom of pan.
In large bowl, combine flour, meat tenderizer, onion powder, garlic powder, paprika, salt and pepper and mix well.
Toss beef cubes in flour mixture and coat well.
Cook pasta according to directions on package - you should cook the beef while the pasta is cooking.
Saute coated beef cubes until nicely brown on all sides, turning while cooking - add oil if necessary and do not overcook because cubes can become chewy.
Remove cubes from pan - place in a bowl and set aside and do not drain the pan.
Drain cooked pasta and set aside.
Add mushrooms to the fry pan and cook 3-5 minutes, stirring while cooking.
Add milk and worcestershire sauce - bring to a boil and reduce heat to simmer, stirring constantly - add water if too thick.
Add beef cubes and pasta to mushroom mixture and simmer for 5 minutes or until meat is heated through - do not overcook!
Serve with salad and biscuits or garlic bread.