Bc Ferries Manhattan Clam Chowder
Linda S.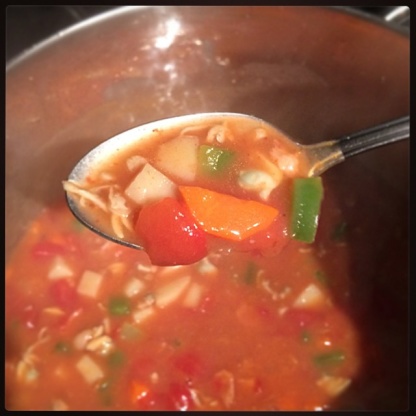 This is from a free recipe card that they used to give out on the BC ferries. It is a tomato based chowder and is very good. The recipe calls for clam nectar but the recipe zaar software changes it to clam juice. I'm pretty sure it's the same but you never know.

Top Review by Gerry
Great chowder! Since this one has already seen to repeats the review is long overdue. Found this tomato based Clam Chowder version excellent and have added it to my soup collection. Made as posted and wouldn't change a thing. (Second time around didn't have the clam juice and subbed with the Extra Spicy Clamatao juice I had on hand making for a great tasting chowder too.) I go with the clam juice but now I know there's an option that works. Going to do as I do with our family favorite Clam Chowder - double the recipe - freeze to have on hand for those times one needs a special soup in a hurry. Thank you for sharing - one cannot have too many soup and chowder recipes!
In a large saucepan, over medium heat, saute bacon or salt pork until light brown.
Add celery, onions green pepper and carrots and cook until tender.
Blend in flour and simmer 5 minute Stir in clam juice and potatoes; simmer 15 minute.
Add tomatoes, tomato paste, and baby clams and cook an additional 10 minute.
Season with thyme, worcestershire sauce, salt and pepper.