BBQ'd Panko Mozzarella Stuffed Portabellas
Bergy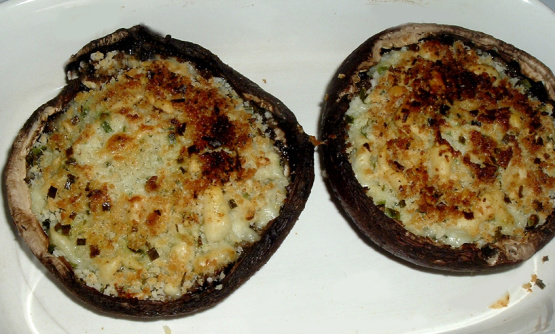 The balsamic marinade that you paint on these mushrooms adds another dimension of flavor. The stuffing isquick & easy to make.. Have these as appetizers, brunch side dish, for lunch or a dinner party. Great on a buffet table too. This recipe is adapted from one that was in the July 06 Bon Appetit magazine. These mushrooms may also be baked 20 minutes at 350F

These were very good, and very easy- which makes a great recipe in my book! I was using the smoker to cook my chicken (at about 220F) and set the stuffed mushrooms on the grill for the last hour. They were perfectly cooked, the cheese was oozy, and they had picked up a bit of the smoky flavor. I love finding a side that I can cook while I'm BBQing, less running in and out of the house to check on multiple items! Thanks for posting a keeper!
Whisk oil, 2 tbsp vinegar & 1 garlic clove together.
Place the cleaned mushrooms (gills removed) on a rimmed baking sheet and brush both sides with the oil/vinegar/garlic.Placing them hollow side up.
Let stand at room temperature for 30 minutes,.
Preheat BBQ - medium heat.
Mix Panko, Mozzarella, Parmesan, green onions, 2 cloves garlic, oregano & hyime.
Drizzle with melted butter and remaining tsp of balsamic vinegar.
Divide panko mixture between the 6 caps, packing down slightly, leaving a 1.2" borfer around the edges.
Place on the grill.
BBQ cover closed until the cheese has melted and the juices are bubbly.
Shift them around so they cook evenly, you may even move them so they are not directly over the heat source.
takes apprx 6 minutes.