Batatas Con Huevos -- Mexican Comfort Food
Rita1652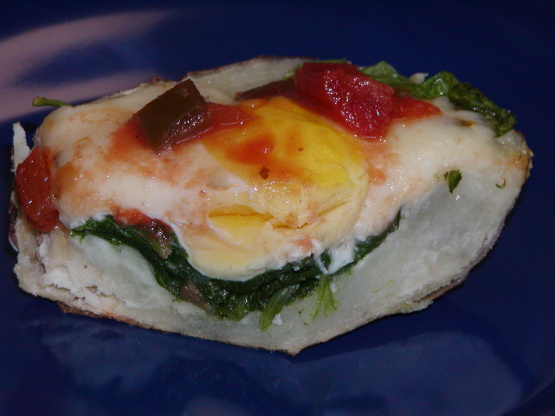 Created for RSC #6. This is basically a Mexican comfort-foody version of Eggs in Bed, but the bed this time is a potato, not a hollowed piece of bread. The original idea for this recipe comes from my Sushiman, who likes making up recipes on the spot but refuses to open his own account on Zaar and is perfectly happy to let me steal his limelight (and ideas).

I made this recipe for 2. The spinach threw me off. Wilted? So I put it in the micro just to wilt. I do think this would be much better if it was sauteed in oil with garlic and onions. The pieces of spinach that were not covered ended up dry. The size of the eggs should be small. I used large eggs and they drip out of the potato and the dog got the rest that didn't fit. What kind cheese? Grated! I think Parmesan or Romano. But I used shredded Monterey jack cheese (nice kick). I did use my home grown and jarred salsa. 15 minutes is too long for 2 potatoes to by microwaved. I did make half the recipe and microwaved the potato for 8 minutes which gave it hard spots from overcooking. So watch your potatoes! I know we have different microwaves so the time is very flexible. OK time to complement the chief! This is comfort food! A great twist on egg in a bed! 20 minutes baking was perfect for me! A very interesting recipe. I will make again. This did have the comfort of the hot potatoes, creaminess of the cheese and egg, the spiciness of the salsa. Thanks for a wonderful brunch. —
2

large red potatoes

1

cup spinach leaves, wilted

4

whole raw eggs
salt and pepper

1

cup grated cheese

Salsa

1

cup tomatoes, chopped

1

jalapeno pepper, deseeded and chopped
1⁄4 cup chopped onion

4

sprigs cilantro, minced

4

sprigs basil, minced

2

teaspoons lemon juice
salt and pepper
Preheat the oven to 350 degrees F.
Poke the potatoes all over with a fork and nuke in the microwave for 15 minutes.
Alternatively, you can bake them in the oven for 1 hour.
Let cool until you can handle them with your bare hands.
Trust me on this one, you don't want to be playing hot potato.
Cut each potato in half.
Pare off a tiny sliver of what will become the bottom of your potato, so it can stand on its own and not roll around.
Scoop out the flesh and leave just a small layer of potato around the shell.
Use the scooped out potato to make mashed potato, or save for another use, but you're not going to need it for this recipe.
Line the 4 potato shells with the wilted spinach leaves.
Crack each egg into a potato shell.
Make sure the yolk doesn't break (you may want to crack the egg into a cup first and then gently pour it into the potato.
Season with salt and pepper to taste.
Top with grated cheese.
Place the potatoes on a baking sheet (good idea to line it first with parchment paper).
Bake in the oven until the eggs are set and the cheese is melted (about 20 minutes).
In the meantime, make the salsa by combining all the ingredients.
You can make it as chunky or as smooth as you like.
Serve the potatoes with some salsa on the side.