Basque Eggs With Ham, Asparagus and Peas
JustJanS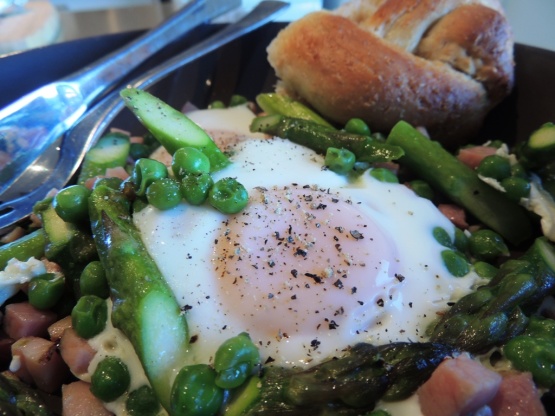 from a lovely little website sharing traditional Spanish recipes! posted for ZWT8. The eggs can be fried separately and then placed on top of the peas and ham before serving to cut down on cooking time Serve with chunks of warm bread

5 plus stars for this beautifully simple recipe that we ate for brunch just now. I used 120g regular Australian ham diced, and a bunch of asparagus. I couldn't see why I needed to specifically use a casserole dish so used a heavy based s/s pan instead. We ate the whole recipe between the two of us along with warm crusty bread. A good one for brunch, lunch or a quick dinner.
Finely slice the garlic cloves and fry in 2 tbsp olive oil in a strong earthenware casserole dish.
Cut the ham into cubes and add to the casserole dish - sauté for 5 mins over a low heat.
Wash the asparagus pieces and remove any rough ends leaving only the tender shoots - cut these into pieces about 3 cms long and add to the casserole dish - sauté for a further 5 mins - season with salt.
Add the peas to the casserole dish cover with a little water and simmer until the peas are almost cooked (5 mins or a little longer if using frozen peas).
Finally break the eggs whole into the casserole dish and leave over the heat until the eggs are cooked.