Basil Chicken in Coconut Curry Sauce
Jubes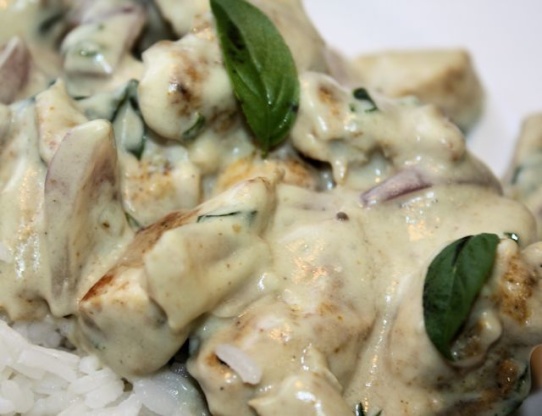 This recipe was a 1997 Grand Prize Winner in Better Homes and Gardens! Enjoy! Chicken needs to stand for 30 minutes before cooking.

We thought this was very good! I halved the recipe, but did keep to the full recipe seasoning amounts. I thought I had ginger but found that I didn't and just added a soft dusting of ground ginger, and I also squeezed some fresh lime juice over top of the finished product. I would love to make this again- soon. I think the only thing different I may do is next time add some snow peas or something like that to make it a little more hearty & filling. Thanks for posting the recipe.
Rinse chicken, pat dry.
Cut into 1" pieces.
Place in medium bowl.
In small bowl stir together the cardamom, cinnamon, cloves, coriander,, cumin, salt, pepper, turmeric, and chili powder.
Sprinkle over chicken, toss to coat.
Cover and let stand at room temperature for 30 minutes or in fridge for 1 to 2 hours.
In a large nostick wok or skillet cook and stir onion, garlic, and jalapeno peppers in hot oil over medium heat for 2 minutes.
Remove onion mixture.
Add about half of the chicken to the wok or skillet.
Cook and stir 2 to 3 minutes or till chicken is tender and no pink remains.
Remove chicken from pan.
If necessary, add more oil.
Cook and remove remaining chicken as above.
Stir together coconut milk and cornstarch.
Carefully add to wok or skillet.
Cook and stir till thickened and bubbly.
Return chicken and onion mixture to skillet.
Stir in snipped basil and gingerroot.
Cook and stir about 2 minutes more or till heated through.
Serve over rice.
Garnish with fresh basil, if desired.
Makes 4 servings.
Enjoy!