Basic Muffins (With Variation Options)
teresas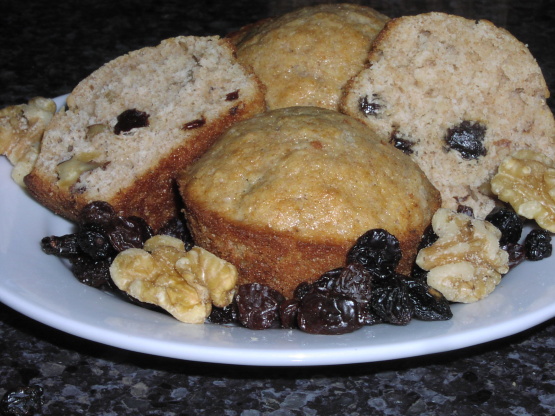 This is a basic muffin recipe that you can either leave plain or add other favorite ingredients to make them special. They are very easy and fast to make. It is great when you want to make a ton of muffins but want each batch to have a different flavor. I got this recipe from a very old cook book of my moms. she always baked from it and every recipe from it is absolutely yummy. Its called "Quick Breads"

Good basic recipe that lends itself to variations. Nice, crunchy texture outside and moist inside. I didn't follow your instructions to only add ONE extra ingredient :) I added dried cranberries instead of raisins and also added the orange zest. I knew I wouldn't get 10 muffins from this so I filled my tins a little fuller and got 6 good-sized muffins. Made for Variety Event.
Preheat oven to 400°F Mix milk and egg together well. Mix dry ingredients and cut in butter. Add to milk/egg mixture. Add sugar. Stir until just moistened. Fill greased or paper lined muffin pans 2/3 full.
Bake for 20 minutes, or until golden brown. Makes 10 muffins.
You may change the basic muffins by adding one (only one) of the variations to the dry ingredients before adding other basic ingredients. Follow rest of the baking instructions as stated above.
1/2 cup chopped walnuts, 1/2 cup raisins, 1/2 cup peeled and cored grated apples, 1 cup blueberries (rinsed well and patted dry, if they are canned or frozen), 1 tbs. grated orange OR lemon peel.