Basic and Simple Shrimp Salad
Roxie43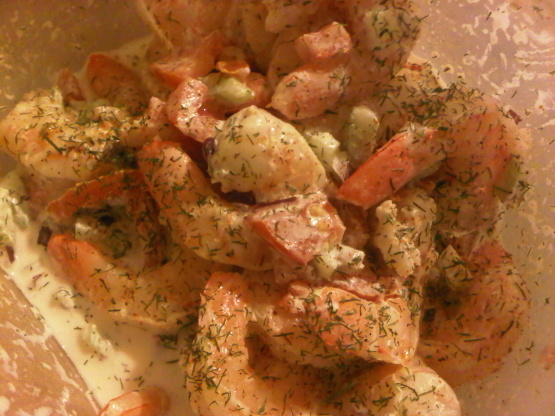 This is the original Old Bay Seasoning Party Shrimp Salad Recipe. It can be edited to your taste by adding or deleting ingredients. Serve as a salad or an appetizier. Be sure to CHILL 1 hour

Top Review by Grease
This recipe scales nicely. The flavor is great and using Derf's photos as a guide, I would recommend adding a bed of greens with cucumbers and tomatoes for garnish. The taste was just what I was looking for in an easy to prepare meal. Thanks Southern Lady for the recipe and Derf for the additional input. I thought this recipe was just what this old bachelor needed for a great dinner!
Peel and devein shrimp (if necessary); cut in half.
Combine well with remaining ingredients.
Chill mixture for 1 hour.
Yum! Enjoy!