Barefoot Contessa's Perfect Pie Crust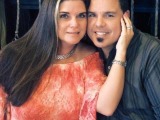 From Barefoot Contessa Family Style cookbook, 2002. I have watched Ina Garten make this on her cooking show. She takes the mystery out of making pie crust and gives easy to follow instructions. First, the butter, shortening, and water must all be very cold. Second, let the dough sit in the refrigerator for 30 minutes before rolling (bakers call this "relaxing" the dough). Finally, don't stretch the dough when you're placing it into the pan.
Directions
Dice the butter and return it to the refrigerator while you prepare the flour mixture.
Place the flour, salt, and sugar in the bowl of a food processor fitted with a steel blade and pulse a few times to mix.
Add the butter and shortening.
Pulse 8 to 12 times, until the butter is the size of peas.
With the machine running, pour the ice water down the feed tube and pulse the machine until the dough begins to form a ball.
Dump out on a floured board and roll into a ball.
Wrap in plastic wrap and refrigerate for 30 minutes.
Cut the dough in half.
Roll each piece on a well-floured board into a circle, rolling from the center to the edge, turning and flouring the dough to make sure it doesn't stick to the board.
Fold the dough in half, place in a pie pan, and unfold to fit the pan.
Repeat with the top crust.
**Ina Garten prefers to use Crisco shortening, that has been stored in the refrigerator.
***Cook time does not include 30 minute refrigeration time.
Most Helpful
I can agree with anyone who's avoided making pie crust altogether, have brought ready to used crust & regretted it. Fear no more just follow directions as is & perfect pie crust anytime. This crust had no greasy after taste & isn't greasy to the touch at all. Honestly, you won't regret making this!
Always tried to avoid making pie crust...no more. Love at first bite. Made it for Tourtière, left out the sugar as did not use for dessert. Do not have a food processor but now I want one so I can make this pie crust again and again. Used a hand pastry cutter which worked fine but then I watched the Ina Garten video to make this crust and she made it effortlessly with food processor. I can just imagine other pies with this crust. Yummm!
I have always struggled to make a good pie crust, and often cheated and used Pillsbury ready-made crust. This recipe changed that! My husband said the best part of the cherry pie I made was the crust. I also used this crust for peanut butter cream pie and the crust didn't get soggy after 3 days like most do. I love Ina Garten and this recipe is a life saver.