Barefoot Contessa's Homemade Chicken Stock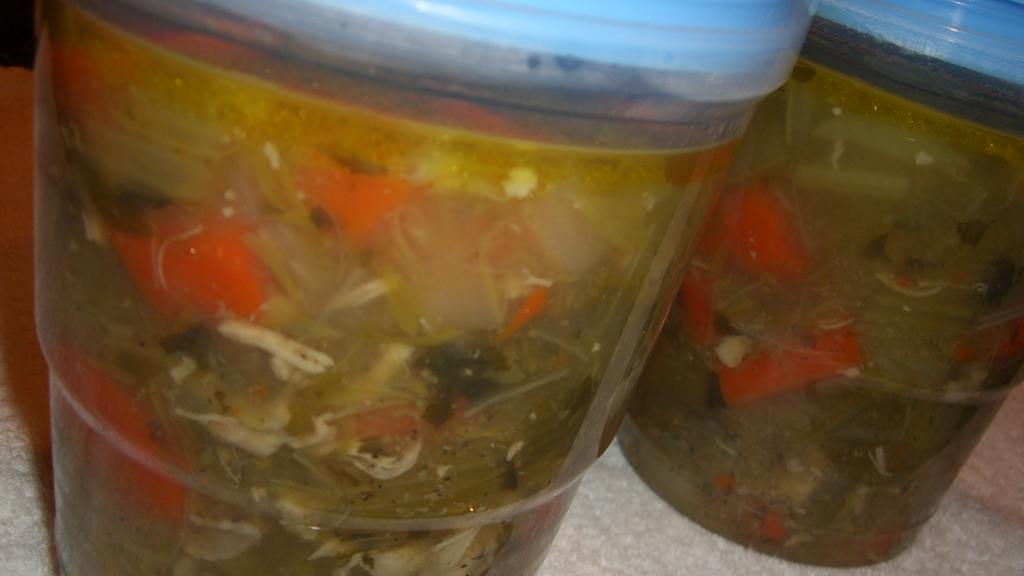 Ready In:

5hrs

Ingredients:

11
directions
Place the chickens, onions, carrots, celery, parsnips, parsley, thyme, dill, garlic, and seasonings in a 16 to 20 quart stockpot.
Add 7 quarts of water and bring to a boil.
Simmer uncovered for 4 hours.
Strain the entire contents of the pot through a colander and discard the solids.
Chill the stock overnight.
The next day, remove the surface fat.
Use immediately or pack in containers and freeze for up to 3 months.
**Cooking time does not include chilling the stock overnight.
Join The Conversation
Juenessa- On the review and reply threads, there is confusion about the actual recipe. I love the recipe, and I interpreted the first ingredient as 3 to 5 pound of roasting chickens (which could be 2 small or 1 large roasting chicken). Others have interpreted it as 3 5-pound roasting chickens (total of 15 pounds). Can you please clarify that in your recipe... it's awful to think of people making that mistake and may keep some people from trying your amazing recipe!

 

PLEASE NOTE: If you don't have fresh dill sprigs, substitute 1/4 tsp dried dill for each sprig (5 tsp in this recipe). If you don't have fresh thyme, substitute 1/2 tsp dried thyme per sprig (2 1/2 Tbsp in this recipe). That info wasn't easy for me to find!<br/><br/>Delicious! Best chicken broth recipe I have tried yet... no need to search any more. Yum! I used a rotisserrie chicken from Costco. I removed 3 cups of meat before throwing in the chicken. It made about 17 cups of broth after simmering 4 hours. I tried to press as much liquid as possible from the mass of solids. It just has a great flavor. Thanks for a great recipe. (by the way I didn't use parsnips only because I didn't have any on hand... and since it's optional, but I'd love to try it with parsnips).