Barefoot Contessa's Chive Biscuits
Pismo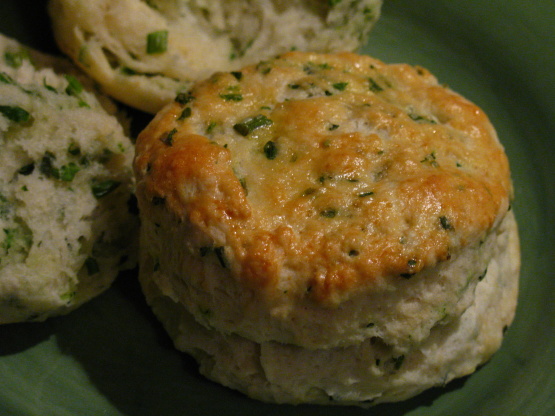 From Barefoot Contessa Family Style Cookbook, 2002.

Marvelous biscuits. Easy to make. Cream keeps it moist & chives add to the favor. If the dough is sticky do not be afraid to add flour as needed. It will not affect the end result. I used it to as a topper to my "chicken Pot Pie". ENJOY
Preheat the oven to 400 degrees.
Combine the flour, baking powder, salt, and sugar in the bowl of an electric mixer fitted with the paddle attachment.
Add the butter and mix on low speed until the butter is the size of peas. (This is a very important step for light, fluffy biscuits.).
With the mixer on low, add the half-and-half and beat until just mixed-do not over-mix.
Add the chives and mix until just combined.
Dump the dough out on a well-floured board and knead lightly into a rectangle 3/4 inch thick.
Cut out rounds with a 2 1/2-inch round cutter and place on a sheet pan lined with parchment paper.
Brush with the egg wash.
Bake for 20 to 22 minutes, until the tops are browned and the insides are firm.
Serve warm.