Annacia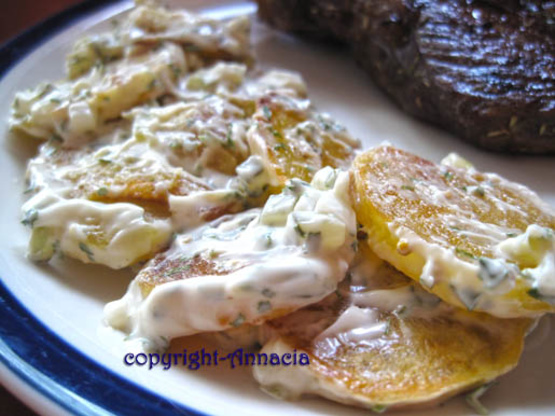 Off that couch, grills and guys, and heed the 'torch' song of the Australian barbecue! This recipe is from Taste, an Australian website. Enjoy!

I'm splitting the star votes on this one. I thought it was great alternative to to out everyday spud salad, DH not so much. Take into consideration that he doesn't like much and tart usually doesn't rate high with him. Actually I was kind of on his side with the first bite but it grew on me real fast and I soon became a believer. I used the cider vinegar. This was a great go along with tonights grilled lamb
Place potatoes in a large saucepan. Cover with cold water. Bring to the boil over high heat. Reduce heat to medium. Boil for 10 minutes or until potatoes are just tender. Drain. Set aside for 5 minutes or until cool enough to handle. Cut diagonally into 2cm-thick slices. Drizzle with oil.
Heat a barbecue plate or chargrill over medium-high heat. Cook potato for 4 to 5 minutes each side or until browned. Transfer to a bowl. Add onion, gherkin and parsley. Whisk sour cream and vinegar together in a jug. Season with salt and pepper. Drizzle over potato mixture. Serve.