Barbecue Recipes All-Purpose Basting Sauce
Prep 10 mins
Cook 30 mins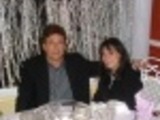 Barbecue Recipes, formerly Patio Recipes revised January, 1985
Directions
Cook onion and celery in oil until tender. Add remaining ingredients and simmer for 20 minutes. This is a taste-enhancing all-purpose sauce that can be used for beef, pork, hot dogs, chicken, and vegetables.
Most Helpful
This was a pretty good sauce- we tested it on chicken and hotdogs and both took to it really well.
A nice easy way to jazz up a weekday supper.
Made for PRMR.