Barbara Bush's Mushroom Quiche
Lainey39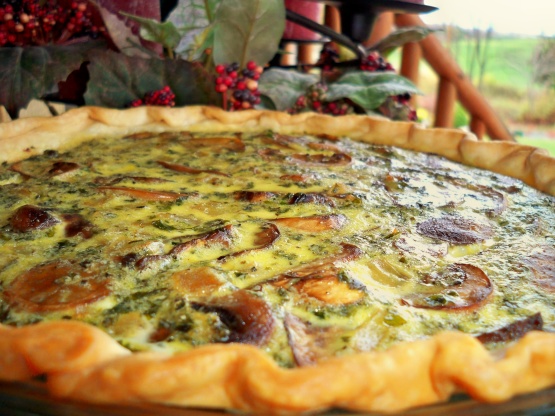 Very well flavored and well received. Unfortunately I had no basil, but upped the other herbs a bit. And canned evaporated milk worked perfectly. Next time I might try "herbs de Provence" for an entirely different taste. This is a really good recipe, very adaptable, and easy to make.
Position rack in lower 1/3 of oven and preheat to 375 degrees.
Melt butter in large skillet over medium-high heat.
Saute the mushrooms, onions, garlic, and shallots together.
Stir in seasonings and cook 2 minutes until liquid is evaporated.
Let cool 5 minutes.
In a medium bowl combine eggs with milk or cream and beat well.
Stir in mushroom mixture and pour into pie crust.
Bake until filling is puffed, set and starting to brown—about 35 to 45 minutes.