Bangers and Mash With Golden Onions
Zurie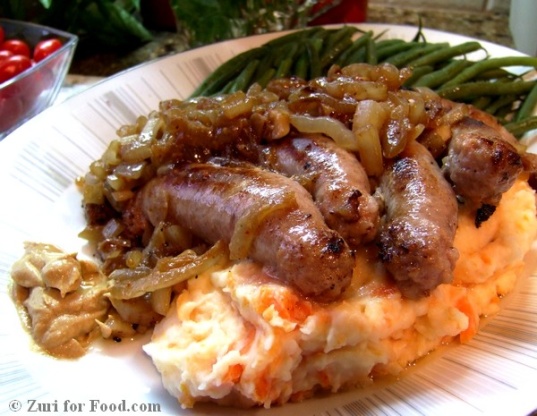 Traditional Anglo-Saxon Australian tucker BEFORE the diverse influences of many migrant groups made our cuisine so rich and varied. This recipe has been adapted and posted for the 2005 Zaar World Tour from a recipe which I found in Huey's 'Tales and Recipes from a Travelling Cook'. Huey (Iain Hewitson) is an Australian chef who has written several books. He hosts a TV cooking show twice daily on weekdays, and runs Tolarno's restaurant in Melbourne. Huey recommends using a floury variety of potato for this recipe. He also advises that: "Blanching the sausages beforehand may be frowned on by the purists, but it is guaranteed to stop them bursting". The inclusion of garlic is one of my modifications. Bangers and mash of say fifty years ago would have been highly unlikely to have contained garlic. And the mashed potato could not have been heated in the microwave! If you want a more authentic experience of old-fashioned Aussie tucker, leave out the garlic and don't use the microwave!

Top Review by Zurie
Simple and delicious. I do make this often without a recipe , but I printed your recipe, and I struck it lucky too with really excellent bangers (not always a certainty here)! A while ago DH remarked that he really loved last night's bangers and mash (not usually a favourite dinner with him!). So, it's definitely 5 stars! I added a little beef stock to the onions, which upped the flavour even more, and I also added chopped carrots to the potatoes while cooking (just a South African "thing", that!) Thanks, bluemoon!!
Blanch the bangers in simmering water until they are just firm when squeezed, drain well and set aside.
Peel and dice the spuds into even pieces and cook them in lightly salted water until they are tender.
Drain the potatoes well.
Bring the milk to the boil and mash the spuds, gradually adding the hot milk. Season to taste, and set aside.
Heat the oil and butter in a large non-stick pan and sauté the onions and garlic until they are golden brown but not burnt.
Pan-fry or grill the sausages until they are browned all over.
While the sausages are cooking and browning, put the potato mash in the microwave with what Huey calls "a good slurp of cream and a generous dollop of butter on top". Heat until really hot, then mix in the butter and cream.
Place the mashed potato on a plate, top with the sausages, top with the onions and garlic, and serve with mustard on the side.
Chef's notes on the rather old-fashioned, probably not-much-used-in-2005 terms used in this recipe: tucker = food; bangers = sausages; spuds = potatoes.