diner524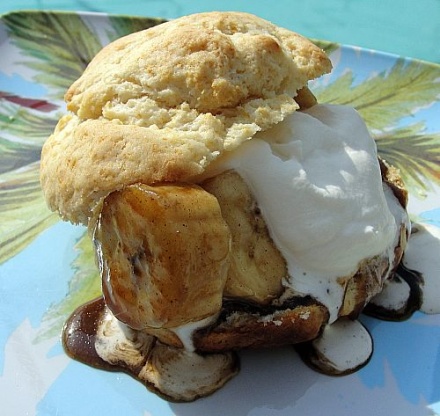 A wonderful change to the traditional strawberry shortcake. I separately posted the recipe for the shortcakes, please see Classic Shortcakes, to make them or use your own recipe. Update: I made this when my 2 older sister and my brother were down here for vacation. I made it without the pineapple, just because I didn't have it, but I know I would love the pineapple added to this delicious dessert. I also made my other posted recipe for Chocolate-Covered Strawberry Shortcake and all 3 of my siblings preferred this one!!

Top Review by Maito
Oh man, is this delicious! Even if you didn't have shortcakes this would still be great, or even just the bananas and sauce over waffles or french toast would be perfection. The only changes I made were to halve the butter and like you, leave out the pineapple.
Simmer brown sugar, butter, rum, liqueur, cinnamon and salt in a large saute pan over medium heat. Cook until thickened, about 8 minutes, whisking occasionally.
Add bananas and simmer until warmed through, about 1 minute.
Take off of the heat and stir in pineapple.
To Assemble:.
Cut shortcakes in half horizontally. Coat cut sides of each shortcake with Foster sauce. Place bottoms on serving dishes, cut side up, then top with fruit mixture, ice cream, nuts and remaining shortcake halves.