Bananas Foster Bread Pudding
Jostlori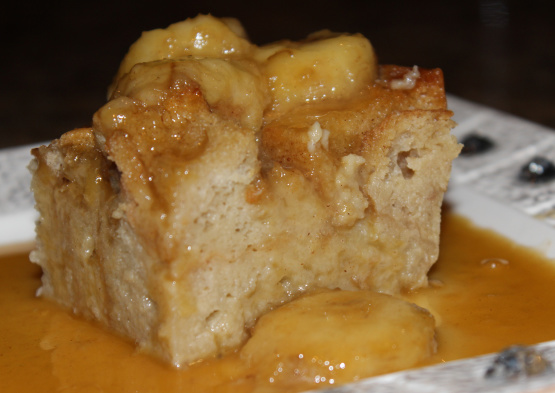 Bread Pudding is a famous dessert in the French Quarter of New Orleans. This version is from dickiebrennanssteakhouse.com. I haven't made this before and it sure sounds like a lot of bread to fit into that size pan - but they're famous for it and I'm not - so hopefully this works well. :D

Oh, my! Definitely five stars!!! The bread pudding was delicious, and the sauce amazing! I cut down the pudding recipe to 4 servings, and the sauce to only two servings - which was more than enough to pool lots of sauce on each serving. I used some homemade banana liqueur and I think it makes a big difference, as it has much more flavor than the commercial ones. Thanks for posting! Made for ZWT9.
Slice French bread and dry in a 200F oven for 20 minutes.
Combine remaining pudding ingredients in a large container and blend well with a hand mixer.
Thinly slice dried French bread and place in an 8 x 10 x 2-inch pan.
Pour pudding into pan and mush all bread by hand so that the liquid is absorbed and the bread becomes very soggy.
Be sure to flatten all of the lumps.
Cover pan with foil and bake at 300 F for 2 ½ hours, or until a skewer inserted in the center of the pudding comes out dry.
Remove foil and bake for an additional 20 minutes, or until golden brown.
Set aside to cool.
Foster Sauce:.
Melt butter in a sauce pot.
Add the brown sugar and cinnamon and mix well.
Add the rum and ignite.
Allow the flames to subside.
Then, stir in the banana liqueur.
Add fresh bananas and simmer over medium heat for about 2 minutes or until the sauce coats the spoon.
To Serve: Cut bread pudding into 3 ½ x 3 ½-inch squares.
Top warm bread pudding with Foster sauce and garnish with mint leaves.