Banana Wheat Bread (Bread Machine)
Debber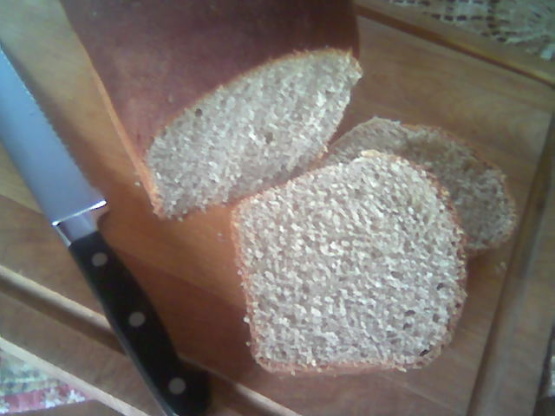 I have a habit of jotting down promising recipes whenever I'm perusing magazines in a waiting room. This one is on an envelope postmarked 1996. The whole wheat flour and banana flavors in this yeast bread really complement one another. I like to make cheese sandwiches with this, or eat with butter and jam. Try french toast with it, too. It's much lower in fat than the typical quick bread banana bread. Prep time is approximate, depending on which alternative you choose.

Top Review by tblum
This bread is so soft and tasty! I made it in the bread machine from start to finish on the basic white bread cycle. Although I pulled it out about 15 mins early because the top crust was beginning to get too dark. Next time, I think I'll use the sandwich setting for a lighter crust so it doesn't burn. The banana is subtle, but I don't mind because banana isn't my favorite it's Hubby's. My loaf wasn't dense at all but light as air. I almost felt like I was eating that worthless cheap white bread from the store. I used extra poppy seed and extra vanilla, so it was more like a dessert bread. Looking forward to making this again.
Place ingredients into your bread machine in order specified by the manufacturer. Slice the bananas right into the pan with the liquid ingredients.
Set machine to white bread setting and let 'er rip.
Check for the consistency of the dough - you may need to add more flour or more liquid, depending on the exact size of your bananas.
Alternatively, set on dough setting, and after it rises, remove, punch down, put into a greased loaf pan, let rise, covered, in warm spot. Then bake at 350° for about 35 minutes, or until done.