Rita1652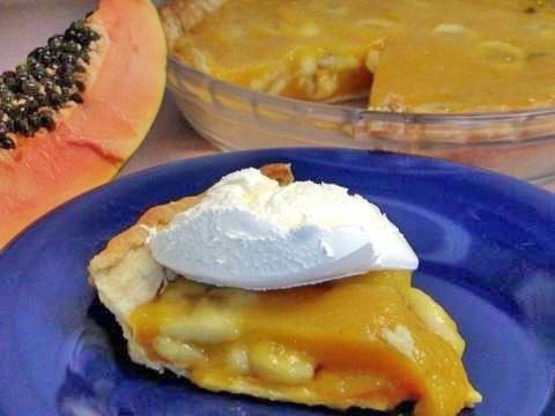 This Tropical Pie can be topped with fresh whipped cream! A great summer time, Luau treat!

Thank you for posting this recipe, it was pretty easy and fun! I had been looking for a fun way to use a ripe papaya that I had handy and came across this recipe. Instead of using Papaya Nectar I used pureed Papaya instead and it came out great! Also added about a 1/4 c sugar because I was worried that it wouldn't thicken enough, not sure it needed it, but it didn't hurt either! Thank you!
Combine papaya nectar, lemon juice, sugar, ginger, cinnamon and salt. Bring to boil then lower to low heat.
Mix cornstarch and water to a smooth paste and stir into mixture. Stir until thickened and clear.
Cool.
Combine with bananas and pour into baked pie shell.
Chill. Serve with whipped cream.