Prep 15 mins
Cook 20 mins

The chocolate chips often surprise people who try them.
Directions
In a large bowl, combine the flour, sugar, baking powder and salt. Combine the egg, milk, oil, banana and applesauce; stir into dry ingredients just until moistened. Fold in the chocolate chips. Fill greased muffin cups two-thirds full. Bake at 400° for 20 minutes or until a toothpick comes out clean. Cool for 5 minutes before removing from pan to a wire rack.
Most Helpful
I got this recipe from Price Chopper on-line. I was going to post it but was happy to see it here already. I always add the applesauce. My boyfriend LOVES these! He brought a batch to work and they were gone within minutes! HUGE hit. They are so quick and easy to make you can't go wrong.

I love these and my DH just can't get enough. I purposely buy overripe bananas to make these! I was going to post this recipe, but am glad to see it's already here. Perfect! (I never bother with the applesauce, I just double the banana puree)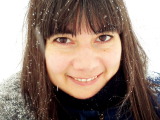 Soft and tasty muffins. They baked in exactly 20 minutes and DH said he could eat them like potato chips. I did bake them in paper muffin cups but don't recommend that in future as they were a little hard to remove. Baking directly in the muffin pan, as the recipe indicates, would be preferable.