Banana - Applesauce - Blueberry and Walnut Fat-Free Quick Bread
Annacia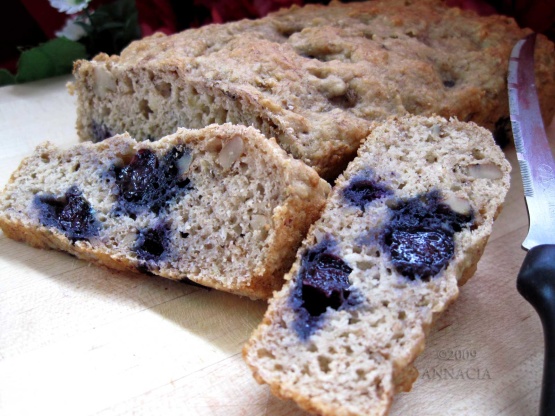 I was looking for something more healthy for a quick breakfast or snack. This is a great moist quick bread that comes together quickly and husband thinks is good too. It's good plain or with a "touch" of peanut butter (a favorite of my husband) across the top. I divide this into two 8 x 4 loaf pans instead of one 9 x 5 pan. It bakes quicker, stays moist, and goes a bit farther without my husband thinking he's not getting enough too.

This recipe was really good. I made a few modifications by changing the applesauce to 3/4 cup and added 2tsp cinnamon, and upped the cardamom to about a 1/3 tsp. I also made a batch that filled up 36 mini size cupcakes and cooked them 13 to 15 minutes and they came out wonderfully. Nice eating something that doesn't leave an oily film on your fingers.
Pre-heat oven to 350.
Spray two 8 x 4 loaf pans with non-stick spray.
In large bowl, blend together bananas, lemon juice, applesauce and brown sugar. I use a hand-held blender, which purres everything quickly and evenly.
In another large bowl, wisk together dry ingredients.
Add to dry mixture blueberries and nuts and toss until flour coated. This helps to prevent the berries and nuts from settling to the bottom during baking.
Add flour-berry/nut mixture to the moist-banana mixture. Mix together by hand folding contents until all is moistened being careful not to overmix.
Divide final mixture into the two loaf pans, spreading contents evenly. Place in oven center for about 35 to 40 minutes, until tooth pick comes out clean and the tops are lightly golden brown. I've found the tooth pick test happens first but wait about 5 or so more minutes for the tops to brown.
Remove from oven and cool. Even better when served the next day. I cut the loaves into 1 inch thick slices, serving 2 per person.
I've also substitued coarsely chopped sweet cherries (1 cup) and cinnamon (1 tsp) for the blueberries and cardamom. Very, Very good too, for all those cherry lovers out there!