Balsamic Citrus Pork Chops
Parsley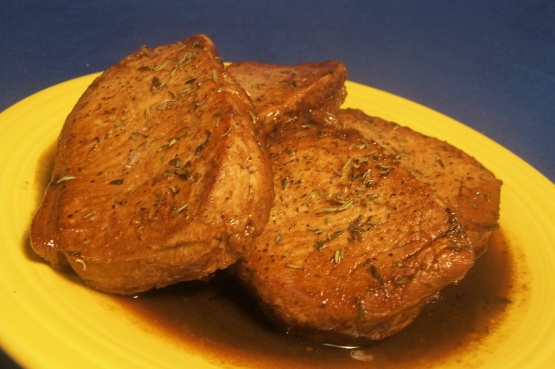 This is a tasty and simple skillet recipe for pork chops. I usually use really thick boneless chops (about 1 1/4" thick), but any thickess can be used; just adjust cooking time.

Top Review by lvt96
Really great flavor! I think I overcooked my chops a bit, 10 min was too long for butterfly chops. I didn't have pineapple juice so I used orange, and added some more cornstarch to thicken. I also added just a little Dijon mustard to the sauce. Really fantastic combination of flavors, thank you!
Season both sides of the pork chops with the salt and pepper.
In a small bowl, whisk together balsamic vinegar, juice, honey, cornstarch and thyme until smooth; set aside.
Heat olive oil in a large skillet over medium-high heat; add seasomed chops. Brown chops for 2 minutes on each side.
Reduce heat to medium-low. Add vinegar mixture to skillet.
Cover and simmer chops for 10-15 minutes (more or less time, depending on the thickness of your chops).
Serve with sauce poured over top.