Baklava Salmon (Salmon With Honey, Butter, Walnuts, and Mustard)
Ashley Cuoco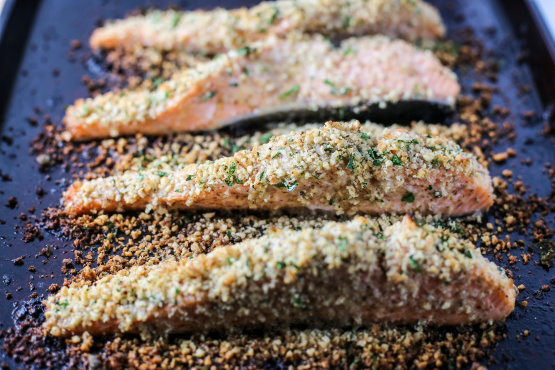 One of my friends deemed this "Baklava Salmon" and the name stuck. The salmon & mustard go well with the honey, butter, and walnuts. We usually serve this with rice and steamed carrots or broccoli.

I know this recipe by heart, I've made it so many times! It's the best way I've ever had salmon, hands down. Thank you so much!
Preheat oven to 400°; Line shallow roasting pan with non-stick aluminum foil, or spray with non-stick pan spray.
In small bowl, blend butter, mustard, and honey, set aside. In another bowl, mix together bread crumbs, nuts, and parsley.
Place salmon fillets on prepared pan, sprinkle with salt and pepper, and brush with honey-mustard mixture. Sprinkle tops with crumb/nut mixture; if any remains, press into sides of salmon.
Bake salmon 12-15 minutes in preheated oven, or until it flakes easily with a fork. Serve with lime or lemon wedge.